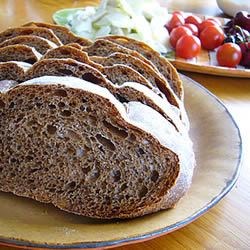 See I TOLD you I'd be posting more recipes soon!
Yesterday Micah found this recipe for "Russian Black Bread" on Allrecipes.com – Let me tell you, it is the closest thing to the real stuff I had in Ukraine that I have tasted while being home. This bread was the reason I came home and refused to eat any American bread because it wasn't substantial enough.
I altered the recipe a bit because the original recipe calls for caraway and fennel seeds – which I omitted because a.) They don't put fennel seeds in Ukrainian bread and b.) I HATE fennel seeds. The recipe also called for coffee granules (???) so we omitted them too. It's the perfect bread to go with Borsch, on a sandwich, or just with some butter. (I used to have a slice for breakfast on my mission and it would fill me up all morning!) It is such wonderfully tasty bread.
INGREDIENTS
1 1/2 cups water
2 tablespoons cider vinegar
2 1/2 cups bread flour
1 cup rye flour
1 teaspoon salt
2 tablespoons margarine
2 tablespoons molasses
1 tablespoon brown sugar
3 tablespoons unsweetened cocoa powder
2 teaspoons active dry yeast
Directions
Place ingredients into the bread machine in order suggested by the manufacturer.
Use the whole wheat, regular crust setting.
After the baking cycle ends, remove bread from pan, place on a cake rack, and allow to cool for 1 hour before slicing.
(We actually just took the dough out of the machine and cooked it on our pizza stone for a rustic bread shape. You can do whatever you want.)
You are all one step closer to tasting my mission! Isn't it wonderful!?